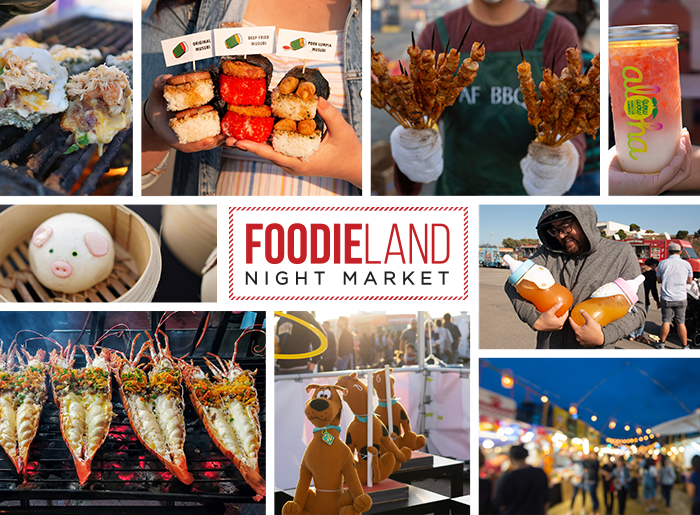 A SUMMER TO REMEMBER. There is something for everyone at FoodieLand!
Foodieland Night Market is an Asian-inspired multi-cultural food and entertainment event taking place at Cal Expo. With over 150 vendors, the night market brings you a variety of amazing foods, arts, crafts, games, and entertainment for the whole family.
Event Hours
Friday, September 3: 3 PM to 11 PM
Saturday, September 4: 11 AM to 11 PM
Sunday, September 5: 11 AM to 11 PM
Monday, September 6: 11 AM – 9 PM
Event Information
Admission: Event tickets are available only through Etix and must be purchased online prior to arriving at the event.
Children under 5 are admitted for free.
Parking is $10. ADA parking is available.
Sorry, no pets are allowed. Service animals are allowed.
Event Safety Guidelines
Masks are REQUIRED for NON-VACCINATED individuals. We highly recommend wearing a mask.
Per California Department of Public Health (CDPH) guidelines, attendees are recommended to be fully vaccinated or obtain a negative COVID-19 test before arriving at the event.
FoodieLand is implementing staggered entry time to reduce overcrowding and provide a better experience. Please choose your desired arrival time when purchasing your tickets online. There is no limit on how long you can stay at the event.
Increased Sanitation
Handwashing stations and hand sanitizers will be strategically placed around the event area.
High-touch surfaces will be disinfected throughout the event.
California Department of Public Health Notices
The following individuals are exempt from wearing masks at all times (CDPH):
Persons younger than two years old. Very young children must not wear a mask because of the risk of suffocation.
Persons with a medical condition, mental health condition, or disability that prevents wearing a mask. This includes persons with a medical condition for whom wearing a mask could obstruct breathing or who are unconscious, incapacitated, or otherwise unable to remove a mask without assistance.
Persons who are hearing impaired, or communicating with a person who is hearing impaired, where the ability to see the mouth is essential for communication.