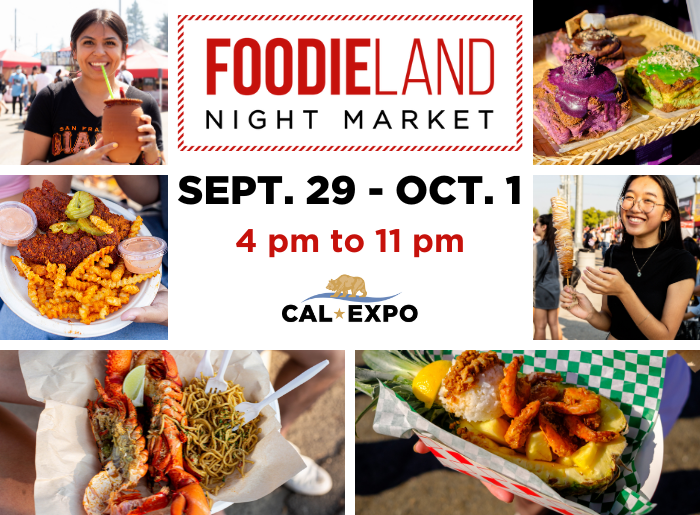 A SUMMER TO REMEMBER. There is something for everyone at FoodieLand!
Inspired by the famous open-air night markets of Asia, FoodieLand Night Market is a family-friendly outdoor food festival that you won't want to miss. Featuring a lineup of over 170+ multicultural vendors, we're thrilled to present some of the most exciting culinary artists and global food pioneers in one place. Save the date, grab your crew, and come hang with us!
Explore FoodieLand's carefully-curated multicultural marketplace representing foods and flavors from across the globe. Celebrate the summer and indulge in an ever-rotating selection of vendors from across America. You won't experience the same festival twice: Each of our events boasts a revolving collective of vendors. The Night Market features a uniquely diverse selection of cuisines that offers something for everyone. Stop by our crowd favorites, or hit up the bar for a summer brew or cocktail. Check out our current vendor lineup here to learn more.
The festival also features an array of entertainment for the whole family. Attendees can participate in activities like carnival games, watch live musical performances on one of our two stages, and shop at local artisans for treasured goods and novelty items. And don't let the name fool you – while we are a 'night market,' you're invited to join us anytime from the early afternoon!
Immerse yourself in Sacramento's finest FoodieLand Night Market to eat, drink, chill, and play. Featuring over 170 vendors, you'll experience a variety of amazing foods and drinks, games, and live entertainment all in one great location. FoodieLand is undoubtedly the city's hottest summer playground. Make it a dream date, a summer night out with friends, or a class reunion to remember. Tell your friends, and save the dates for FoodieLand events for a summer to remember.
Vendor's list coming soon!
Event Hours
Admission
Social
Clear Bag Policy
Unaccompanied Minors Policy
Map